From a Cranberry Cookbook put out by the Westport-Grayland Washington Chamber of Commerce. (The Cranberry Coast) The original recipe said it made two pitchers, but I change the yield to one pitcher after reading Rita's review.
Directions
Place half of the ingredients in a blender and fill with ice.
Blend until smooth. Pour into pitcher.
Repeat.
Pour into margarita glasses with salt or sugar around rims.
Makes 2 pitchers.
Most Helpful
This brought my Cinco de Mayo celebration to a whole new level!!! Although the cranberries had a nice tartness to them, they were not as acidic as the typical lime margarita. Absolutely delicious!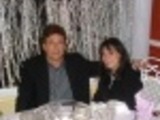 This is quite delish! I cut the recipe to make .50 pitcher serving which made two tall tumblers full. I loved just the right amount of tartness, which the cranberries bring. The only thing I would do differently would be to puree the liquids, strain and then blend with the ice. There was a lot of pulp from the cranberries and I ended up straining the ends of our drinks so we could finish them. These were the perfect accompanyment to our grilled chicken caesar salads and made for a lovely summer supper. Thanks mikekey!
Yummy Yummy! My husband and I have been on a margarita kick lately so was excited to try this one out. It was absolutely delicious! After I drank a glass of it, I realized that I halved the entire recipe except for the amount of sugar. It still was great! I'm looking forward to making it with all of the correct ingredient amounts! :) I made half of the recipe and it was a full blender pitcher for me. Thanks so much for sharing this keeper of a recipe, Mikekey!