Boomette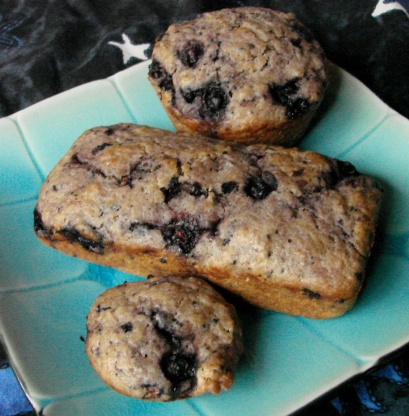 The secret to these muffins is the finely chopped blueberries added to the batter in addition to whole blueberries. These are very dense muffins.
I had only a pan of large muffin (6). So I used it and used a pan for mini muffin tops and also I small loaf pan. For the mini muffin tops, I baked them 25 minutes. For the others, I added 5 minutes (total 30 minutes). I used only 1/2 cup sugar. That's perfect. They have a great taste. But even though I like cinnamon, I may use only 1/2 tsp next time. Thanks Swissms :) Made for PRMR tag game
Preheat the oven to 375 degrees. Line 12 large muffin cups with paper liners.
In a large bowl, combine flour, sugar, baking powder, salt and cinnamon with a whisk.
In a separate bowl, whisk together the butter, eggs, milk, lemon zest, and lemon juice until well combined.
Place 1 cup of the blueberries in the bowl of a food processor fitted with the metal blade and pulse several times until coarsely chopped. Stir the chopped berries into the egg mixture.
Add the egg mixture to the flour mixture and stir just until the dry ingredients are moist and blended. Do not overmix. Fold in the remaining 1 1/2 cups whole blueberries.
Scoop the batter into the prepared muffin pan with a large ice cream scoop (one-third cup scoop). The batter will come to the top of the paper liner or pan.
Bake 25 to 30 minutes, until lightly golden brown and a toothpick inserted in the center of a muffin comes out clean. Remove from the oven and cool for 5 minutes. Turn the muffins out of the pan and serve immediately.