Debbwl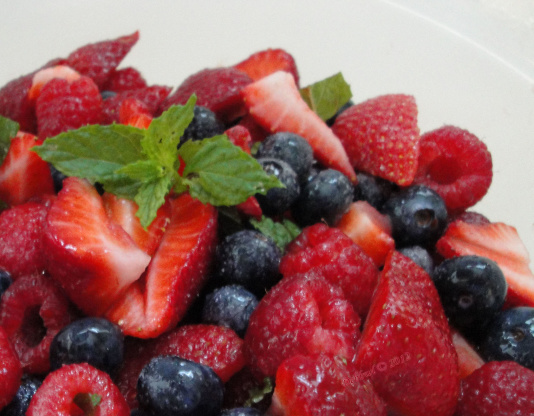 This is a recipe I got off the food network from Ellie Krieger's Healthy Recipes. I added an optional banana and substituted splenda for the sugar

Top Review by Debbwl
Lovely! This salad is as lovely to look at as it is to eat! I must admit some minor changes were made as I read the recipe went to the store made, enjoyed and not till wright this review did I see were my poor old memory had gone off track (red face). I made using only 1 tablespoon lemon juice, 2 teaspoons Splenda, only about 1/2 tablespoon fresh mint and left out the banana option. This is a salad that will be enjoyed again as it was Loved by all of us. Thanks for the post.
Stem and halve strawberries.
In a large bowl combine all the berries, lemon juice, splenda, triple sec and chopped mint.
Toss gently to combine, cover and refrigerate until serving.
Just before serving add sliced banana and toss again.