Linky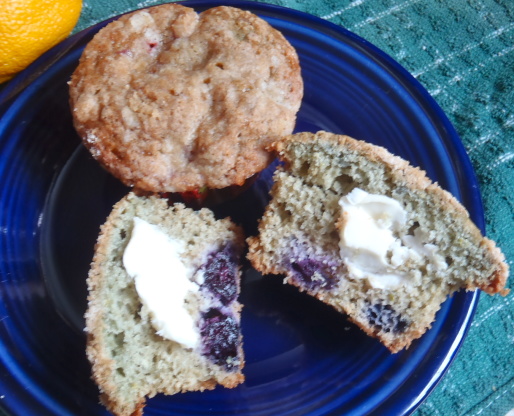 The original recipe used frozen raspberries, but I had a berry mix of raspberries, cherries, blueberries, and blackberries on my hands. The result was very tasty! I made these for a light brunch on Thanksgiving day.

I have never made berry muffins. I just put these in the oven and if the batter is any indication of the final flavor, this will be my only recipe I will ever use.
Preheat oven to 350 degrees.
Grease 12 muffin cups.
For crumb topping, combine 1/4 cup flour and brown sugar in a small bowl.
Cut in 2 tablespoons butter until mixture is crumbly.
Set aside 1/4 cup flour.
Combine 1 3/4 cups flour, granulated sugar, baking powder, baking soda, salt and lemon peel in a medium bowl. Combine milk, melted butter and egg. Mix well.
Toss berries with 1/4 cup flour until coated.
Add berries to muffin mixture.
Spoon batter into muffin tins until 3/4 full.
Sprinkle with crumb topping.
Bake for 25-30 minutes or until toothpick inserted comes out clean.
Cool in pan for 2 minutes then remove to wire rack.
Serve warm or at room temperature.