Very Berry Delite Adults or Children
Rita1652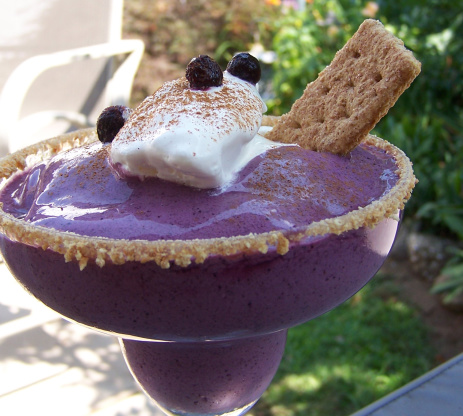 This thick antioxidant drink is so like a Dessert! A drink for the young or those that want to stay young! ;) This recipe has two versions one with and one without liquor :!: This drink has a graham cracker crust rim with a creamy blueberry filling! Serve it in a margarita glass. Garnish with rich whipped cream and a crisp graham cracker cookie for scooping up the thick drink. Can you just picture it? Was one of the recipes I made for RSC and didn't post!
Dip a margarita glass into strawberry preserves then into crushed crackers set aside.
In a blender add drink ingredients with the remaining preserves and blend till smooth the creamy.
Top with whipped cream, dip cookie in and sprinkle with cinnamon dot with blueberries.
Enjoy!