Lvs2Cook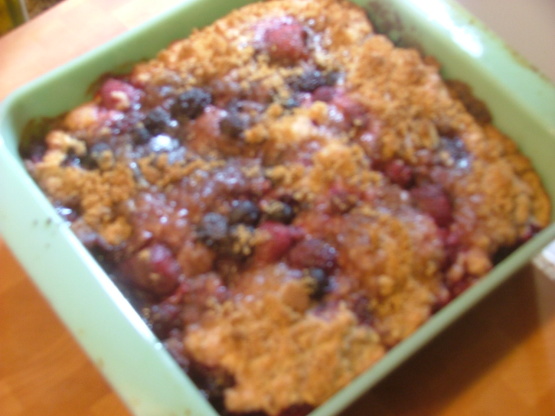 A delicious coffeecake from The Lodge at Vail, Vail, CO.
Great recipe. I used fresh berries and peaches, greek yogurt and substituted applesauce instead of oil, and honey and stevia instead of white sugar. I actually cut the amount of honey versus sugar in half. Did the brown sugar over the top, no pecans. When I make it again, which I will, I think I can cut down even more on the sugar, it was a sweet, super moist cake. Husband loved it.
In a small bowl, add the first 3 ingredients; stir to combine and set aside.
In a mixing bowl, add the egg, milk, yogurt, oil, and vanilla; stir until blended.
In another bowl, add in the flour, sugar, baking powder, and salt; stir to mix.
Pour the egg mixture over the flour mixture and stir just until dry ingredients are moistened.
Fold in berries and pour into a greased 8X8 inch baking pan.
Sprinkle with reserved brown sugar-pecan topping and lightly press into the batter.
Bake at 350 degrees for 30-35 minutes or until a pick comes out clean.
Let cool for 5 minutes, cut into squares and serve.