Versatile Vegan Tofu Quiche (Even the Crust is Vegan)
eabeler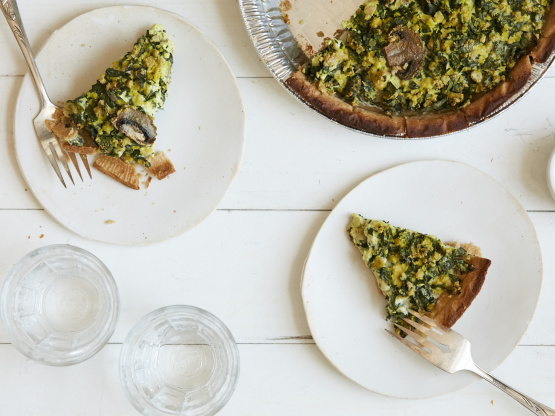 Always wanted to try a tofu quiche to have a savory one-dish meal but feel that vegetarians really miss out on quiche? While I am not vegan, I hate eggs and an eggy taste but am trying to include more purely vegan foods in my diet so I came up with this delicious tidbit. You can cut prep time down drastically by using a pre-made 9" pie crust, Whole Foods sells some organic ones, but my pie crust recipe is yummy, vegan, and not that difficult. However, this does not use water-packed tofu like some tofu quiche recipes--google "mori nu firm silken tofu" to see what I am talking about, this is nifty tofu that does not require refridgeration when sealed. This uses up two little 12.3-oz packages. Because it does not require refridgeration, you can buy it in bulk on the internet if it's not available at a health food store or large supermarket nearby. I wanted to use it for its more pudding-like texture than water-packed silken tofu. You don't have to be vegan or vegetarian to appreciate the awesomeness of this recipe that uses no eggs; you can also use shortening or real butter in place of Earth Balance but I swear by EB. Feel free to use other veggies, spinach and mushroom is a quintessential classic (and one of my favorite pizza combos!) but I like finely chopped broccoli and shredded carrot too.
To make the crust, whisk the flour, salt, and onion powder together in a large bowl.
Cut in the Earth Balance (assuming you used a new stick and have a 6-tablespoon stick now) little by little, as if you're whittling off pieces, into the bowl.
Stir in the olive oil and a little soymilk and knead by hand. Add soymilk as needed to make the dough gather together, and form the dough into a compact ball.
Roll out onto a sheet of parchment paper. To make peeling it off easier, pop in the freezer for a few minutes.
Lightly grease a 9" pie pan with a little olive oil, about 1 teaspoon or so.
Roll the dough into the pan, crimping the edges at the top with a fork. Poke some holes in the bottom and sides with the fork to aerate.
Bake at 450F for 10-12 minutes until lightly browned, extract from the oven and let cool while you make the filling.
Wash the spinach or broccoli and run through a food chopper or processor/blender to get the finely chopped consistency, until you have roughly 1 cup.
Wash the mushrooms and slice them.
Put the tofu and soymilk into a large bowl, and beat with a hand mixer.
Beat in the dry spices and nutritional yeast.
Add the spinach and mushrooms, and whisk in by hand.
Pour the tofu filling into the pre-baked pie crust.
Bake at 400F for 40-45 minutes or until the top is browned. Let cool for 10-15 minutes prior to serving (or else the tofu will make a watery mess!) Cut into slices and serve. I like to eat mine with some extra nutritional yeast and black pepper!