Versatile Fresh Vegetables and Cheese
Prep 10 mins
Cook 40 mins
From Weight Watchers Favorite Recipes book. I finally found a broccoli recipe (without hollandaise sauce) that I enjoy. The original recipe was for the microwave, however, I prefer to cook in the oven so I've amended accordingly.
Directions
Preheat oven to 350°F.
In 2 1/2 quart casserole dish, combine all ingredients except cheese, mixing well. Add water to casserole.
Cover casserole and cook for 20 - 30 minutes.
Add cheese evenly over vegetable mixture and cook uncovered for another 5 - 10 minutes, till cheese melts and vegetables are tender crisp.
Reviews
Most Helpful
Some time ago, DH told me his two least favorite vegetables are broccoli and carrots. Since then, I have been on a mission to get him to eat his words. (Pun intended!) This was very good, the herbs and spices add great flavor. I used just a sprinkling of cheese on top. I also like the oven baking as it can cook alongside the entree in the oven. As for DH, he went back for seconds.

Really excellent, according to both me and my BF. Since we are vegetarians, we omitted the ham entirely. Also we only used about 5 1/4 ounces cheese, including monterey jack with hot peppers, colby and some low-fat mozzarella (just to use up a bunch of cheeses I had). I think to lower the fat you could easily get away with all low or some free fat cheeses. The flavor came from the herbs, onion and garlic powder. I oven baked to the middle of recommended time ranges and thought it turned out perfect! Oh, instead of all garlic powder I used a full teaspoon of garlic salt. I served with low-fat mashed potatoes, really good to soak up some of the extra broth from veggies. I would make this again, again and again! BF was so pleased with this:) Thanks Sally, this was great!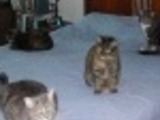 This was very good. I didn't have any ham and used very little cheese. It was still good. Thanks for a tasty side dish.