This recipe is easy and simple. I often add shredded cheddar and green onions to spice it up. You can switch out canned salmon for the tuna.
Directions
Combine all ingredients.
Form patties.
Panfry in butter on medium heat.
Reviews
Most Helpful
Yes, very simple and easy to put together. It seemed like it would be way too much bread at first, but it wasn't I did throw the torn bread into the food processor to break it up more, just a prefrence. I used tuna and added salt, pepper, dill and some honey mustard. They held up better than any fishcake/tuna burger recipe I've used before. It was easy to form the patties and I could flip them without having them fall apart, which is what usually happens. Yummy too. Even the one year old liked it. I liked that they don't have a huge "fishy" taste.We ate ours as is, because I didn't want to make sandwiches as there was already so much bread, but I think they would definately work well on a sandwich with cheese and other toppings.
What an easy, quick and TASTY supper! I made the salmon version. I served with some rice and steamed broccoli. Pretty simple for after a hard day at work. Reminded me of my mom's salmon loaf without all the mixing and baking time! Made for My-3-Chef's 2008.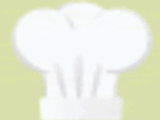 I used the garlic oil tuna that we buy from super walmart at home. I added a little mustard for it to stick better. I used canola oil instead of butter to fry these. I have to say, these were very tasty!