My friend Tammy always makes this salad for her parties. It's so easy to make. Make the dressing a day ahead if you can it's better that way. You can also add cooked chicken if you want to make it a main meal. YUMMY!
1 lb vermicelli
1⁄4 cup sesame oil
1⁄4 cup soy sauce
2 tablespoons sugar
1 teaspoon hot chili oil (or more)
2 tablespoons balsamic vinegar
1⁄2 cup sesame seeds (toasted)
1 cup sliced green onion
Directions
Cook vermicelli according to package directions and cool completely.
Combine remaining ingredients except the sesame seeds and green onions, pour over noodles and toss.
Add sesame seeds and greed onions and toss again.
Most Helpful
Made this just as written but used 8 oz. Barilla Plus multi-grain angel hair pasta instead of a pound. Also added half a cup of chopped cilantro leaves and a large peeled and shredded carrot in addition to the sesame seeds and chopped green onions. Very nice and so easy. I always have these ingredients in the house, so I'll make this again.
I couldn't find vermicelli, so I substituted angel hair pasta. I planned on adding shredded leftover rotisserie chicken and shredded carrot, but felt that the dressing didn't seem adequate in quantity for just the pasta alone. I ended up adding more sesame oil and about 3 t. or so of hot chili oil. It was pretty good but, next time, I think I will cut back on the pasta. Made for 1-2-3 Hit Wonders Tag Game.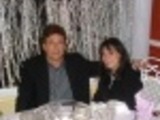 This is a great dressing for cold noodle salad. I add shredded carrot, ginger, broccoli and cauliflower, and some fried pork mince to bulk it up to make a full meal. Very nice and very easy.