dojemi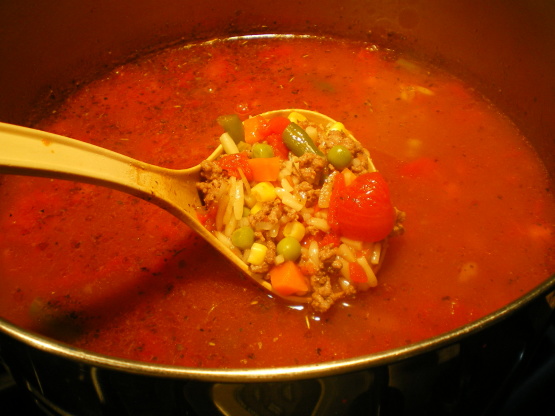 Fast vegetable soup with old fashioned taste. Sent to me by mom years ago. It was a big time saver while I was raising 3 boys as a single parent.

This is almost EXACTLY the "Quick" recipe I use for soup. If I don't have time to simmer for hours and hours. Instead of the frozen veggies, I use Veg-All and I also add a can of dark red kidney beans. Sometimes I use sausage instead of the ground beef. Gives it an extra "Kick". I'm a Soup kinda girl. Love Soup!! :)
In a large pot brown ground beef, stirring to break up.
Drain well.
Add broth, onion soup mix, water, tomatoes, bring to a boil, reduce heat simmer 5 minutes, add frozen vegetables, continue to simmer 10 minutes more.
Stir in pasta cook about 8 minutes more till pasta is done.
This makes a fast, great-tasting soup in no time at all--freezes well.