Venus De Milo Baked Stuffed Lobster
Jack M.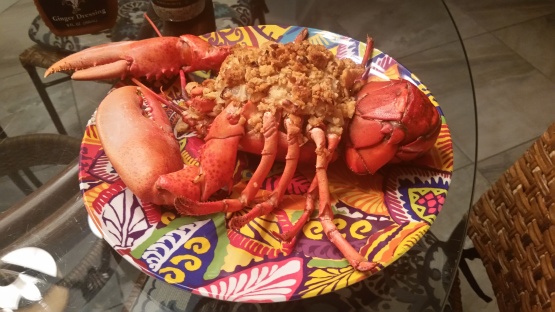 For over 45 years, Venus de Milo Restaurant has been recognized as one of the premier restaurants in southeastern Massachusetts and Rhode Island, and is capable of hosting banquets up to 2000 people! It is also famous for one of it's chefs, Emeril Lagasse, who worked their after culinary school. This is one of the recipes that makes them famous. NOTE: See my instructions on "how to broil a lobster" and prepare for stuffing in my Misc. Cookbook.
This has been a family favorite for over 40 years. We have added to the Ritz cracker stuffing, crab, peppers,etc., but for us the original recipe of crackers, white onions, and melted butter is best. Tips: 1 1/4 to 1 1/2 lobsters. Keep them cold in frig to last posible minute. Preheat oven to 375. Chop medium Spanish onion for every two lobsters. Crush one "tube" of ritz per lobster, melt 1/2 stick of butter per lobster. Mix in bowl with hands. Put lobsters on back on cutting board, just below the mouth insert large, sharp knife. Try not to cut though back shell. Cut down the body to tail (I split tail she'll too) split open lobster, remove everything from cavity and rinse it out with cold water. Pack cavity with stuffing, pile it high. Place lobsters on metal baking tray that has raised edges so juices dont spill in oven. 42 minutes, no peaking, rest for 5 minutes after removing from oven. Warning it's normal for the lobsters claws to move while in the oven. Enjoy!
Prepare the lobsters for broiling and set aside.
After the lobsters have been prepared for broiling, slowly melt 1/2 lb. of butter taking care not to let the butter boil. The clear portion of the melted butter is the drawn butter.
Slowly pour the drawn butter into a measuring cup, measuring off 2/3 cups.
In a food processor, grind enough Ritz Crackers to make about 4 cups, (about 1/2 a box).
Combine the crushed Ritz Crackers with the drawn butter a little at a time until the crackers are liberally and evenly coated.
Fill the bottom of the lobster bodies and the lobster tails with about 1/2 the amount of cracker mixture.
Next, divide the seafood into equal parts and fill the lobster body.
Cover the lobster meat with the remaining crumbs and place the lobster on a sheet pan along with the claws.
Pre-heat the oven to 375 degrees F.
Cook the lobsters for approximately 30-40 minutes or until the tail meat becomes white and firm to the touch.
Serve at once with lemon wedges and drawn butter.