Venison Tenderloin with Cabernet Sauce
Rita1652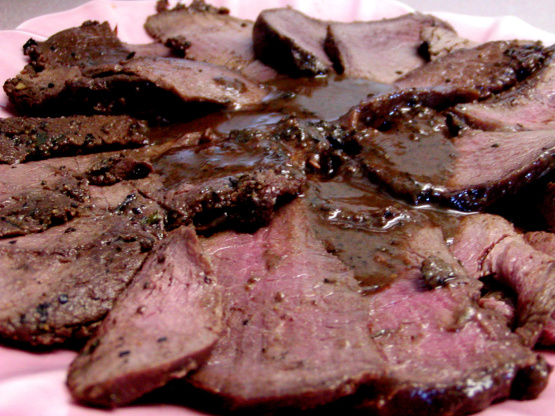 Another favourite venison recipe. This recipe considers farm-raised deer which is readily available in better butcher shops, or some larger super markets. A favourite cook offers up this recipe, and can be found in "Lee Bailey's Cooking for Friends". I like Lee Bailey's recipes because he shops for fresh ingredients; I have tried to make a habit of doing just that for each dinner party.

Toolie, this was excellent. I found a package of venison tenderloin stuck in the back of the freezer from last year and was so excited to try this recipe. The flavor of the sauce was so rich and complimented the tenderloin very well. Thanks for posting this winner.
Preheat the oven to 450 degrees F.
Rub the venison with garlic and sprinkle with salt and pepper.
Put olive oil in a heavy skillet.
Add venison and sear over high heat until browned on all sides- about 3 minutes Place in oven and roast until medium-rare; for 16- 20 minutes, turning once.
Meanwhile, combine the wine with the vegetables and herbs and bring to a boil.
Reduce by half over medium heat- about 8 minutes.
Strain out vegetables and discard.
In a saucepan, reduce broth by half over high heat- about 7 minutes.
Combine all the liquids.
When meat is done, remove to cutting board and cover loosely with foil.
Pour any fat from the pan and deglaze with the reduced liquids
Whisk in the cold butter and add salt and pepper.
Spoon a bit of sauce over each meat serving.