Cook4_6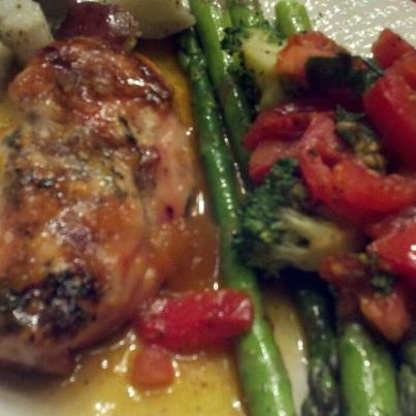 This is from the Olive Garden, I had this for lunch and was so impressed I went on to the Olive Garden website, and there it was. Delicious and low in fat and calories. OG does not serve pasta with this, so it is a nice light meal, served with salad and bread sticks, of course.

I went to OG as well and loved this dish. Our server revealed that the "secret" to the sauce was orange marmalade. I make a version with cutie oranges that is not as sweet and I chopped the pieces a little finer than purchased varieties. So I think this addition will make another wonderful layer that that sauce! Just a little side note it didn't spike my sugar levels!
Apricot Sauce

1⁄2 cup chicken stock
1⁄2 cup apricot preserves
salt and pepper

Tomato Mixture

1⁄2 lb roma tomato, cut into 1 pieces

6

basil leaves, cut into 1/2 pieces

1

teaspoon garlic pepper seasoning

Garlic Herb Seasoning

3

teaspoons garlic pepper seasoning

1

teaspoon italian seasoning

Chicken and Vegetables

1

bunch asparagus (remove bottom inch of stems)
1⁄2 lb broccoli floret

1

tablespoon extra virgin olive oil

4

chicken breasts, boneless, skinless
chopped parsley (to garnish)
Combine Garlic Herb Seasoning ingredients in a small mixing bowl and set aside.
Blend apricot sauce ingredients in a sauce pan. Add salt & pepper to taste. Bring to a boil and remove from heat.
Combine tomato mixture in a separate mixing bowl and set aside.
Blanch asparagus and broccoli for 1 minute in a pot of salted boiling water. Transfer immediately to ice bath to stop cooking.
Coat sauté pan with 1Tbsp olive oil. While keeping ingredients separated in pan, heat cooled asparagus, broccoli and tomato mixture and until hot. Do not overcook.
Grill chicken until internal temperature reaches 165°F.
Place grilled chicken on a platter next to hot broccoli and asparagus. Sprinkle Garlic Herb Seasoning on broccoli. Pour tomato mixture on top of vegetables.
Top chicken breasts with apricot sauce and garnish with chopped parsley.