Vendor Style Honey Roasted Peanuts
Bayhill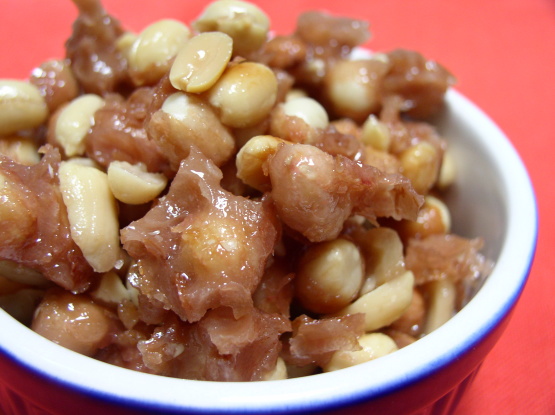 Delicious and easy to make. No oven needed! I got this recipe from a different website, but changed the directions a bit. The recipe calls for roasted peanuts, but mine weren't and it still came out great.
Delicious! This recipe is very quick and easy to make, and has a taste that is like a combination of honey roasted peanuts and peanut brittle. I used roasted Spanish peanuts as they were the only ones that I could find with a skin on them. My family loved these nuts and I will definitely be making them again. Thank you for sharing this wonderful, quick and easy recipe.
Mix the sugar and salt in a bowl and set aside.
Bring the honey, water and oil to boil in a saucepan.
Add the peanuts to the honey mixture.
Reduce heat to low and simmer for 5 minutes stirring frequently.
When the liquid is practically gone, add the sugar and salt and continue stirring on low heat until sugar has turned reddish-brown approximately 5 more minutes. You will recognize the honey roasted peanut look.
Take off heat and spread in one layer on a cookie sheet or foil until it cools. Break into pieces and store in an airtight container.