Velvety Smooth Mashed Potato Casserole
Brenda.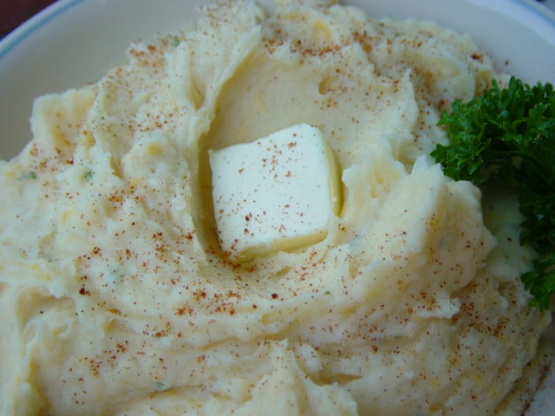 These are a favorite. Gets nice and smooth.

These were very good. A nice side to grilled pork chops tonight. I did have to use the "short on time" method as we didn't get to start dinner until after 7pm. I had never used evaporated milk to whip potatoes, but it worked out very nicely. Thanks for sharing. Nick's Mom
Boil potato chunks salted water in a large pot until tender (about 15 minutes); drain.
Return hot drained potatoes to pot. Add 3 tbsp butter, milk, sour cream, cream cheese and cheddar cheese and mash all together.
Add green onions, parsley, paprika, salt and pepper and continue to mash well until smooth.
**If you are short on time, skip the baking.**.
Pour into lightly greased/sprayed 13" x 9" baking dish. Evenly pour the 2 tbsp melted butter over top.
Bake at 350 for 20-25 minutes or until butter on top just starts to brown slightly.