Velvety Pumpkin & Black Bean Soup
SEvans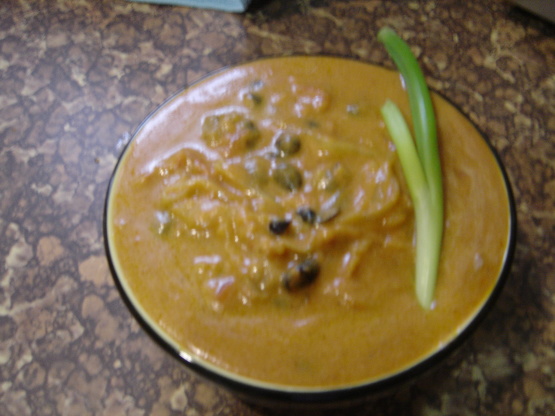 This is an autumn must. This soup is rich in flavour and aroma. This recipe is for 2 people but can easily be increased to suit your needs.

Wonderful! I substituted milk for the cream, and I ran out of curry powder so I wasn't able to add that. I'll have to pick some up so I can make this again :) It was still great! I added a lot of pepper though so it was a lot more spicy/savoury than sweet from the pumpkin, but I really enjoyed it this way. Thanks!
Heat oil in a soup pot over medium high heat. Sauté your onions and cabbage with a pinch of salt to "sweat" the vegetables. You don't want to brown the vegetables - just cook them until they are soft and onions are opaque - approximately 10 minutes.
Add broth, tomatoes, black beans and pumpkin puree. Bring to a boil and reduce heat to medium low to simmer for 10 minutes or so.
Stir in cream, curry, cumin, cayenne and salt to taste. Simmer an additional 10 minutes and serve.