Velvet Smooth Cream of Potato Soup
Parsley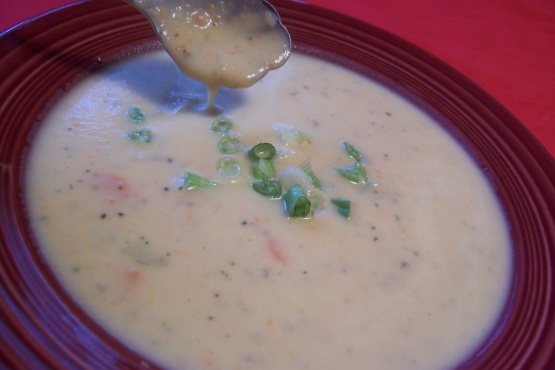 This soup is easy to prepare as well as comforting. This is not a thick soup; but smooth and velvety with much flavor and very satisfying. A great soup recipe for the cold winter!

Top Review by kenlo
i added a lg. clove garlic,only one lg. carrot(more and you would have tasted only carrot) used milk instead of cream, add liquid with caution as there is too much liquid, also used 1 medium onion
Melt butter in large saucepan or dutch oven and saute the celery, onion and carrots until tender, about 20 minutes, add salt and pepper to taste.
Add potatoes and parsley, toss until coated.
Add broth, bring to a slow boil and cook until potatoes are soft.
Remove from stove.
Reserve 1/3 of the chopped veggies; puree remaining soup (broth and veggies) in a food processor or blender.
Pour puree back into original pot, along with the reserved chopped veggies.
Stir and add heavy cream,heating through- DO NOT BOIL.