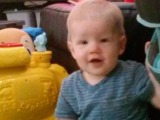 The name says it all—this bread has a wonderful texture, and just wait till you smell it baking! You can use an egg substitute instead of real eggs, which is what I used for this recipe.
Directions
Preheat the oven 350 degrees.
Lightly spray a 9x5x3 inch loaf pan with vegetable spray and set aside.
In a medium bowl, whisk together the pumpkin, milk, egg substitute, margarine, and oil.
In a large bowl, sift together the flour, baking powder, cinnamon, ginger, nutmeg, and salt.
Stir the remaining ingredients into the flour mixture.
Make a well in the center of the flour mixture.
Pour the pumpkin mixture all at once into the well.
Stir until just moistened.
Don't over mix. Pour the batter into the loaf pan.
Bake for 1 hour, or until a cake tester or toothpick inserted in the center comes out clean.
Turn out onto a cooling rack.
Note: You can use an egg substitute = to 2 large eggs instead of real eggs, which is what I used for this recipe.
Most Helpful
Made this for my other half to share at a weekly group session, & it was definitely a success! Even had requests for the recipe, so that says a lot about this bread! I particularly like it with a thin spread of cream cheese! Thanks for sharing the recipe! [Made & reviewed in Healthy Choices ABC recipe tag]
These were quite tasty. I made them into muffins and baked them for 20 minutes which appeared to be plenty of time. My daughter devoured them. Thanks for sharing
Made this for my son's school project and it was a hit! The roasted pecans were a nice change. I did use a real egg just because I didn't have the substitute. It baked in about 65 minutes and smelled wonderful. The teachers at school all wanted some. Thanks for sharing!