Velvet Mashed Potato Chocolate Cake
Daun1319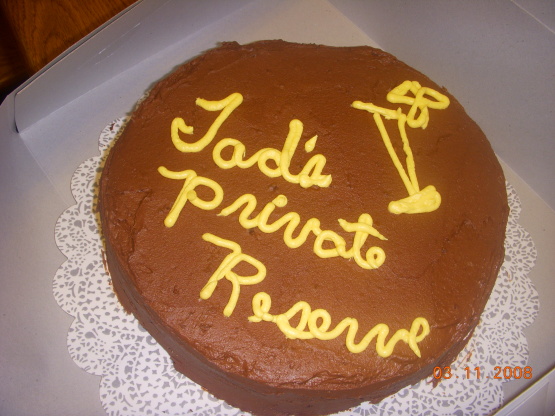 This is an old recipe. It is extremely moist because of the mashed potatoes and raisins, and the texture is velvety smooth. The frosting with its touch of citrus is quite perfect with this cake.

This is a great little cake ! I did a couple of changes just to make it fun for a friend, i substituted 2 oz. Jamiesons for the Buttermilk and used Baileys in the frosting instead of milk. It was a hit at my office party and will be making over and over. Thank you for the recipe.
Peel the potatoes, cover with water, and boil until tender.about 25 minutes.
Mash thoroughly, do not add milk or seasonings.
Measure out 1 cup, cover to keep warm, set aside.
Preheat the oven to 300°F.
Sift together the flour, ginger, baking powder, baking soda, salt, cinnamon, cocoa.
In a large mixer bowl, cream the butter and granulated sugar for 3 minutes.
Add the egg yolks and beat 1 minute longer.
Stir the vanilla into the buttermilk, then add the flour mixture to the creamed mixture alternating with the buttermilk, beginning and ending with the flour mixture.
With the beater running, add the 1 cup of potatoes, raisins, and nuts, combine lightly, not over beating.
Beat the egg whites until stiff peaks form, and by hand fold into the cake batter just until blended.
Pour the batter into a greased and floured 10-inch tube pan and bake for 1 1/2 hours, or until the cake springs back when touched lightly with your finger.
Cool completely in pan on wire rack while you prepare the frosting.
To prepare the FROSTING:.
In a large mixer bowl, cream the butter, orange rind, cinnamon, salt, and cocoa.
Add the confectioners' sugar alternately with the lemon juice and milk until the mixture is creamy and smooth, beating well after each addition.
Remove the cooled cake from the pan and spread the frosting on the top and sides of the cake.
Cover tightly until ready to serve.
NOTE** If the weather is hot, refrigerate the cake so that the frosting will not become overly soft. Bring to room temperature before serving.