Velveeta Grilled Cheese Sandwich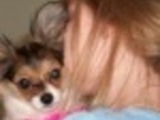 Velveeta is called a "Pasteurized Prepared Cheese Product". I'm not exactly sure what means, but I do know it makes one heck of a good grilled cheese sandwich.
Directions
Top four of the bread slices with cheese slices. Cover with remaining bread slices.
Spread outside of sandwich evenly with mayonnaise.
Cook in skillet on medium heat until lightly browned on both sides.
Cut each sandwich on diagonal from corner to corner. Serve with dill pickle slices and chips.
Most Helpful
Sandy, one of the most sublime culinary experiences in this universe is a Velveeta grilled cheese sandwich. Oh, yes, there are scoffers and nay-sayers who turn their noses up at Velveeta and claim that "it's not even real cheese!" I ignore these Philistines as I heat up the fry pan and enjoy another gastronomic delight. ~Chef 289860
There's no better cheese to make grilled cheese sandwiches than Velveeta. I've been grilling sandwiches for years using mayo....specifically Hellman's or Best Foods. Just adds that perfect tang. Another secret I picked up somewhere along the way is to sprinkle some italian seasoning on the mayo side of the bread before you grill it. It adds a very nice flavor to the sandwich!!

Excellent grilled cheese! I had never made mine with mayo. . .always butter. . .so that was a nice change. I used homemade Recipe #412480 and served it along side a fabulous soup Recipe #408617. Thanks for posting!