lazyme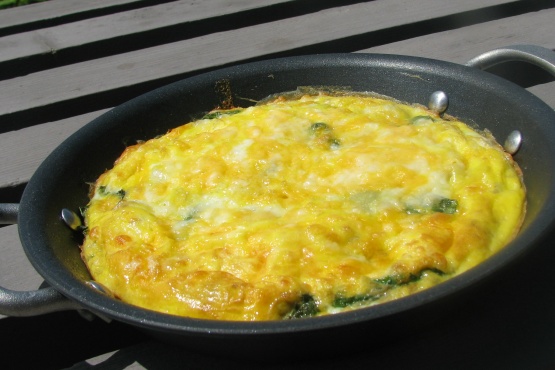 Made for RSC #11. This easy vegetarian meal-unto-itself dish is delicious. Serve as part of a brunch or a light supper. You can use either jarred or canned artichoke hearts.

Top Review by awalde
This made for us a delicious lunch.<br/>I placed the prepared mold (margarine and breadcrumbs on the bottom) in the oven to preheat.<br/>I the meantime I sautè the onion and the artichocken (10 pieces, 2 tins).<br/>As I used frozen spinach I could not saute this,<br/>I removed the mold from the oven added onion and artichoked and placed "dots" of the defrosted spinaches. After this I poured the egg + spices + salt + cheese (Swiss cheese: Luzerner Rahmkäse) mixture and placed in the oven. This came out delicous and really pretty. WOW!<br/>Thanks a lot for your suggestion! My DS will enjoy the leftovers at school for lunch;
Preheat oven to 400°F
In a 12" heavy, stove to oven safe skillet (such as cast iron), melt the butter.
Add shallots & saute briefly. Add artichoke hearts & saute briefly. Add spinach & saute until just barely wilted.
Sprinkle on salt & cayenne. Stir to combine.
Pour on eggs, distributing egg & vegetables evenly. Leave it alone to cook on a medium low flame until barely set. About 10 minutes.
Sprinkle cheese over top & transfer to oven. Cook 15 - 20 minutes until cheese is melted, bubbly & browned.
Remove & let sit 5 minutes before cutting into wedges.