loof751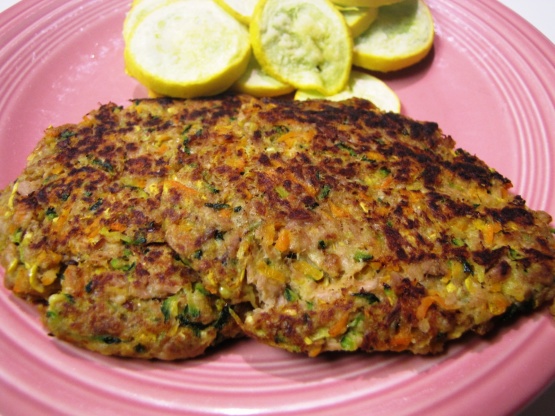 From Healthy Cooking. I may add more tuna. PLEASE NOTE: As written, these are fairly bland. I am leaving the recipe that way for the benefit of folks feeding picky little ones. In the future, though, I will add some dill and Dijon mustard, or perhaps oregano and LOTS more garlic!

Our family REALLY enjoyed these patties. I wound up adding an extra can of tuna for more protein, a few spices (seasoned salt instead of regular, dill and chili powder) and I followed your advice and used the oatmeal that I processed in my food processor. Instead of frying them, I baked them on a cookie sheet at 350 for 15 minutes, flipped and baked 10 minutes more. Everyone really liked them, including my 2-year-old that is going through a picky phase. We ate ours on buns, and after one, I was more full than I would have been if I would have eaten a beef burger (without the gross feeling). I am going to hold onto this recipe and we will definitely be making them again!
In a large nonstick skillet coated with cooking spray, saute onion and garlic for 1 minute. Add the zucchini, yellow squash and carrots; saute until tender. Drain and cool to room temperature.
In a large bowl, combine the egg, bread crumbs, tuna, salt and pepper. Add vegetable mixture. Shape into six 3-1/2-in. patties.
Coat the same skillet again with cooking spray; cook patties in butter for 3-5 minutes on each side or until lightly browned. Serve on buns with cheese, lettuce and tomato.