Veggie Stuffed Baked Potatoes
Debbwl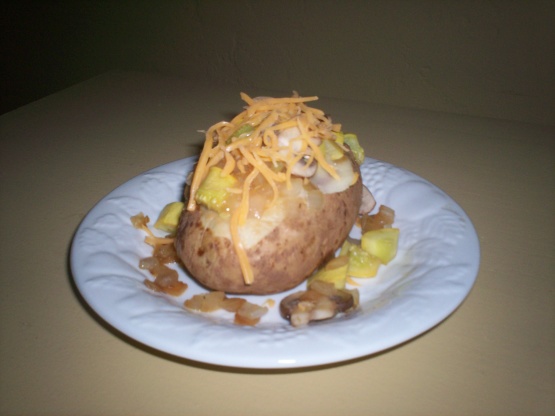 Baked potatoes stuffed with saute'd yellow squash, mushrooms, garlic and onions. YUM... delicious and very filling. You could make a meal out of one of these. Vegetarians will also love this recipe.

Top Review by Debbwl
Realtor you hit it right on the potato. This is Delicious. All those yummy veggies falling out of a hot cheese potato mmm mmm mmm. Made for lunch and they were so filling we could hardly finish, but so good we all but liked the plates clean. Made as written and would recommend anyone wanting to try this do the same. Thanks for the yummy post.
Preheat oven to 425. Bake potatoes until fork tender, about 50 to 60 minutes.
Meanwhile, saute the squash, mushrooms, garlic and onions in 1 tablespoons butter until tender, about 10-15 minutes.
Scoop insides out of potatoes, whip with milk, 2 tbsp butter, salt and then stir in cheese.
Refill potato shells. Place on plates and mound the saute'd veggies over the top. Serve immediately.