Derf2440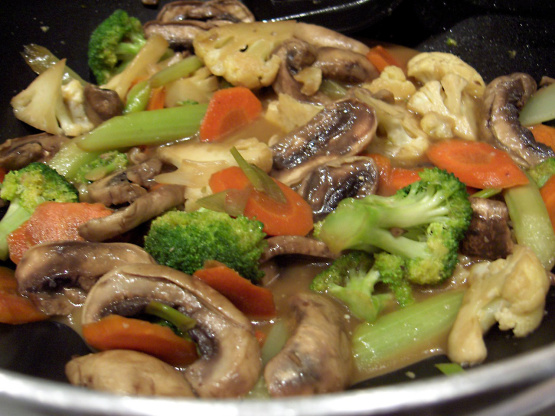 Made with ingredients I usually have on hand. This is what I make to clean out my fridge, so the veggies are different each time, but I love this version. This can easily be made vegetarian by substituting vegetable broth.

I'm sure it'll probably be considered blasphemous, but when preparing this recipe, I left out the mushrooms [other than eating them fresh, I really don't like the slimy little creatures!]. I did, however, add some carrots & cauliflower, & the end result was very, very satisfying! Thanks for this shared recipe!
Soak broccoli in water; heat canola oil in large frypan or wok and steam wet broccoli, covered, for 4-5 minutes.
Add celery, mushrooms, garlic, soy sauce and ginger. Saute uncovered for about 5 more minutes, depending how crunchy you want your veggies.
Add the chicken broth and bring to a boil. Stir in cornstarch paste and simmer 1 minute.
Serve over rice, with soy sauce and chow mein noodles.