Hadice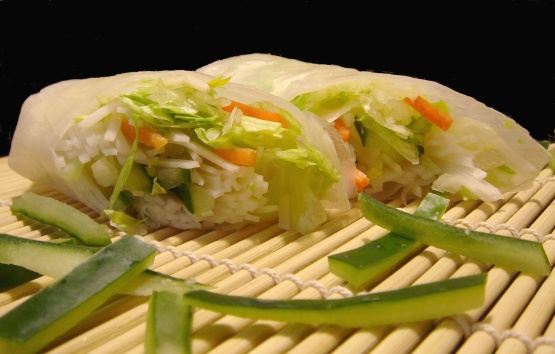 A great weight watchers recipe from better homes and gardens. 1 point per roll.

ABSOLUTELY OUTSTANDING AS CAN BE!
Cannot believe these are SO healthy!
Used radish as local store ran out of daikon on the day!
WOW is what I CAN say!
Put them together 1 hour before the party did start, TRUE!
Let me tell you, NONE were left....gobbled pretty quickly too!
Made two dipping sauces, BOTH were GREAT!
This recipe really is first rate
http://www.food.com/recipe/soy-ginger-dipping-sauce-for-dumplings-or-pot-stickers-62708
Combine first 6 ingredients oin one bowl, and the next four in another bowl.
Cover each and refrigerate beteen 2- 24 hours.
Stir once and drain.
Pour 1 cup warm water into a pie plate.
Carefully dip rice papers into water, one at a time.
Place papers one at a time on clean kitchen towels (not touching).
Let soften until pliable.
Place 1/4 cup bean sprouts on each rice paper near the edge.
Place one rounded tablespoon of each vegetable mixture on the sprouts.
Fold in the ends, and tightly roll the rice paper.
Place seam side down on a plate.
Cover with a damp towel, and repeat until done.
Cover and refrigerate for up to 2 hours.
Cut each roll in half diagonally to make 12 pieces.
Garnish with carrot and cilantro.