Veggie Pizza "no Crust!!!"
Boomette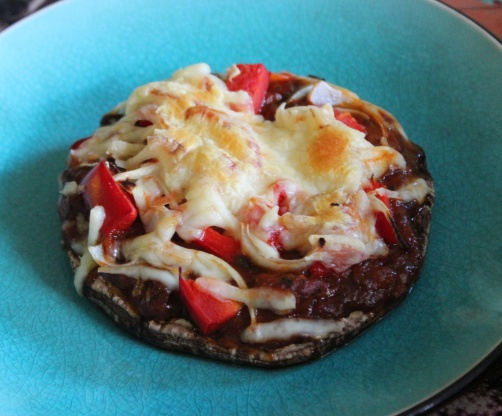 I found this recipe while looking for low calorie meals. I must say this was the best "pizza" I ever had!! Can be used as an appetizer or snack. I use it in my low calorie diet as a dinner.
I used homemade spaghetti sauce. I used cheddar cheese instead of parmesan. For mine, I used red bell pepper and onion and for DH without onion. We liked this so much. It's so yummy. It's filling enough. It can be perfect with a salad on the side. Thanks Naren :) Made for Name that ingredient tag game
Place the mushroom cap upside down on a cookie sheet. Spread the marinara sauce over the mushroom, and top with the remaining ingredients - just like a normal pizza.
Bake in the oven at 350°F until the cheese melts and the 'pizza' is warmed through.