twissis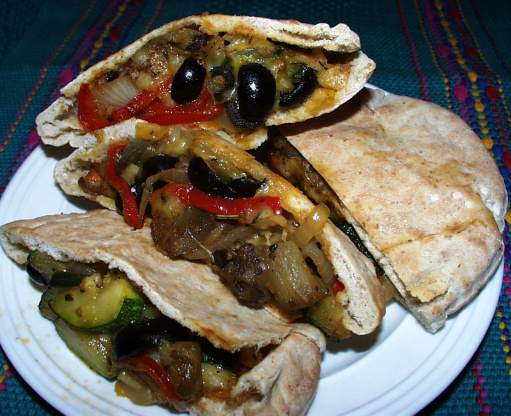 A warm and filling sandwich. You can either peel or scrub the eggplant, zucchini and squash (I prefer to use unpeeled veggies}. Adjust seasonings to your taste. Cooking times may vary a little bit depending on your oven. Preparation time includes 1/2 hour marinating time.

I loved these pitas! I knew the real test would be the verdict of my meat & potatoes DH, but he loved them too. :-) I cannot get yellow squash here, so left that out & used a mix of mozzarella & cheddar for the cheese. Otherwise I made no chgs except to fully mix the cheese w/the veggies so all the veggies would show in the pic. Would not chg a thing here, except will prob add mushrooms next time to replace the squash. Pls see my rating system - a very worthy 4*. Thx for posting this recipe.
Combine oil, vinegar, Italian seasoning, garlic powder, salt and pepper; use to marinate eggplant through olives 1/2 hour.
Spread vegetables in one layer on a foil-lined baking sheet.
Roast at 400F 15 minutes.
Drain and toss vegetables together in a collander and stuff into the pita pockets; lay each pocket on its side and stuff in 1/4 cup of cheese with the veggies.
Wrap each pocket in foil, place on the baking sheets and return to oven for 5 minutes to melt cheese.
Serve warm.