3 Reviews
This was a recipe I had fun customizing. First I lightly grilled hoagie rolls, added a spoonful of homemade satay sauce, small square of grilled tofu (with a simple oil-lemongrass wet rub), spinach, slice of cucumber, grated carrot, more satay sauce and finally a mixture of fresh cilantro, basil and mint. Yum! These were served open faced, too. Served with fresh corn on the cob and locally grown fruit: watermelon, berries, peaches. Reviewed for ZWT 8.

I enjoyed this for lunch today but added a grilled chicken cutlet and used whole wheat toast. I also used a small amount of chili sauce for the sriracha. This is a very tasty Thai sandwich and the bean sprouts add a nice crunch. This sandwich is a bit unusual, but very good.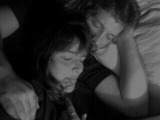 Thanks to your creativity, the world now has a great Thai sandwich! :) Made as directed, except I doubled the sriracha sauce -- don't do it unless you want to burn the inside of your mouth! lol! I think this would also be good inside a pannini maker in place of having the bread toasted! Thanks, Susiecat Too! Made for Photo Tag.

Veggie Peanut Butter Sandwich