Derf2440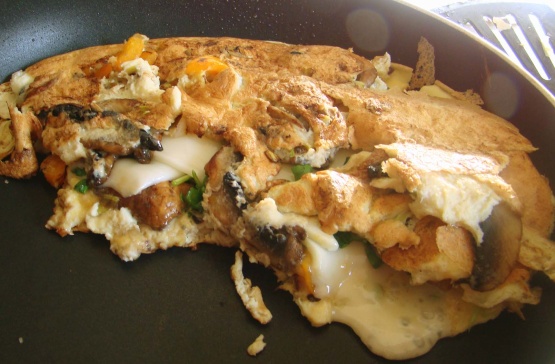 Just a base to jump off of really, I use just mushrooms, green pepper, and green onions because they are all chopped and ready to go when I am at work, you can add chopped tomato too. This is kind if a omelette/frittata. The ingredients mixed in with the eggs make it a frittata but the folding over and cheese makes it an omelette. Can be more vegetarian friendly without the cheese.

Wow! This filled me up! I made it with 2 whole eggs + 1 egg white. I used mushrooms, green peppers, white onion, and tomatoes. I sauteed the mushrooms, peppers, and onion a little before adding to the eggs. I added the veggies to the egg as the recipe states, but then added more tomatoes along with the cheese because I LOVE tomatoes. This omelette was way too easy, I can't wait to make it again! Thanks, tasb!
Heat frying pan, spray with nonstick spray or coat the bottom of the pan with oil, or butter.
Beat together eggs, mushrooms, green peppers and green onions, mix together.
When pan is hot enough add egg mixture and cook until almost set, until you can flip it over with out it falling apart, cook on the other side until set. Top 1/2 of the omelette with cheese and fold over. Cook until cheese is melted. If you are really hungery then add a little water (about 1-2 tbsp) and cover, this will make the cheese melt faster.
Serve with toast, hashbrowns, or even rice.
Can use any color peppers, or even use regular onions too. Change the cheese if you want.