jenne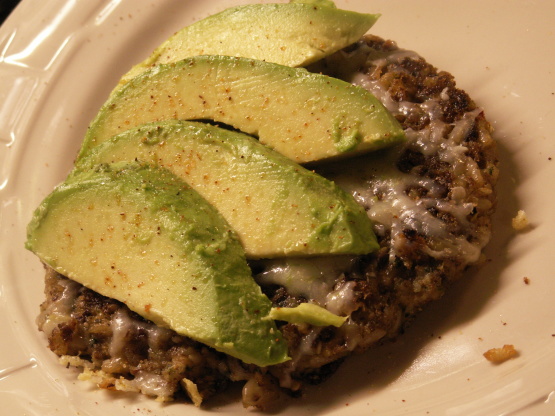 The flax adds some bulk and binding power and also great nutritional value! Garnish with your favorite condiments, cheese, lettuce, etc. Adapted from Delicious Living magazine(Feb. 05) I haven't tried this yet, so placing it here for safekeeping.

I was very impressed with how these turned out. I used milled flax seed instead of ground, and regular rather than roasted tahini. The texture was a little lumpy for my family so next time I may mix it more, then scrape the sides and add the flax seed.
We really liked the test batch so I added cumin to the basic mix and DH cooked it up and crumbled it up and made it a taco. He said it was very good. It seems to be a good basic meat substitute that with a little work could be turned into anything from Swedish meatballs to tacos. I am looking forward to playing around with it.
Put the artichoke hearts, garlic, green onions, parsley, garbanzo beans, kidney beans, ground flaxseed, tahini, and black pepper in a food processor; pulse about eight times, until blended. Now scrape down the sides and pulse another six times. Don't overprocess! Move to a bowl and gently stir in cooked rice.
Divide the mixture into four portions and form into patties about 1/2" thick.
Heat a larage nonstick frying pan over medium heat and coat with cooking spray. Fry the burgers until the bottoms are brown, about 5 minutes. Spray the tops of the burgers with the cooking spray and turn over. Cook until brown, about 5 minutes more. Serve on buns, if desired. Enjoy!