JayTL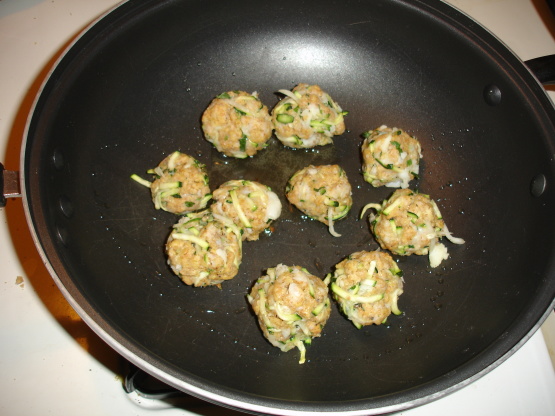 I needed to use some fresh leftover bread crumbs so I threw these ingredients together and the result is quite tasty! Fee free to improvise to your tastes!
1 1⁄2-2 cups breadcrumbs

1

medium zucchini, shredded
1⁄4 cup shredded onion

2

whole eggs

2

small cooked fish fillets, shredded
1⁄4 cup of fresh mint

1

tablespoon dried basil

Sauce

balsamic vinegar
texas pete hot sauce
In a medium mixing bowl combine the breadcrumbs, eggs, fish, zucchini, onion, and spices and form palm-size balls from the mixture.
In a covered pan over medium heat, brown the balls in a small amount of olive oil. This should take 5-10 minutes depending on size.
For the dipping sauce, combine the three ingredients to taste.