luvcookn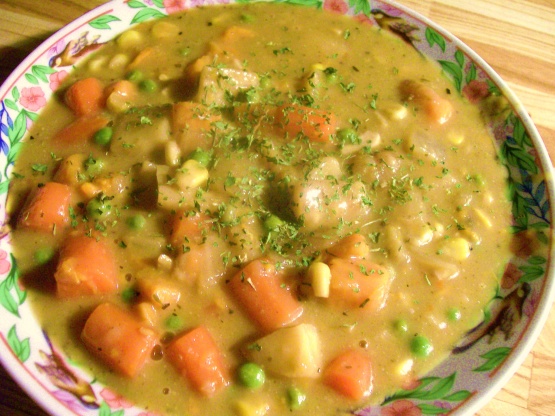 I may be wrong in calling this a chowder, but this experiment came out great. I threw together my own concept after looking at three or four recipes for creamy soups. A friend of mine brought me an entire gallon of milk, which we will never drink, so I have been attempting to be inventive to use the milk up. I hope you enjoy.
get a heavy bottomed soup pot out.
melt butter and oil together over med.
dice onion and mince garlic, add to butter/oil.
saute about 5 minute.
add chopped sweet potato, potato, and carrots.
add juice from corn.
let boil until veggies are a little tender.
blend flour with some of the milk until smooth.
add the rest of the milk to the pot including flour mix and corn, stir frequently until the soup boils and thickens.
keep pot on med so you so not scorch the milk.
season to taste throughout cooking and enjoy when done!