Veggie Burgers, Veggie Steaks, Veggie Sausages, the Lot!
Erin R.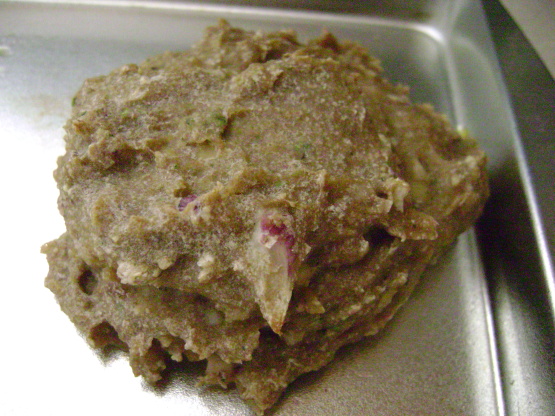 I love meat, but often can't afford it, especially with the economy taking a nose-dive and food generally being so expensive. So. When the end of the month draws near, and food stocks in the cupboard run low, here is a quick fix to help bulk out your cupboard. I have added specific ingredients, but remember that this is an emergency stash using recipe; substitute where ever you need to. The recipe that follows is for a chicken-like meat substitute, but can be altered to suit your tastes. The following recipe makes approximately 12 "meat" patties, or enough to fill a generous meat portion of 2-3 meals for 2 people. Prep time includes soaking beans.

Adding chicken stock means it is not vegetarian. Try vegetable bouillon or miso. I would add some chopped broccoli as a bit of green speckle does look nice. Also I would add herbs, or spices for a little more zing. I love plenty of flavour. I often use passages instead of water or moisture to mixes, it just needs a pinch of salt and pinch of sugar to correct that and it somehow thickens and enriches.
1

cup dried butter beans (or other beans, or lentils, or a mixture. Broth mix also works)

2

onions
1 1⁄2 cups mixed vegetables (grated carrot, peas, peanuts, canned chickpeas, etc)

1

cup flour

1

pinch salt

1

tablespoon concentrated chicken bouillon or 2 chicken stock cubes
Add butter beans to a pan, and cover with boiling water, with an inch of water to spare. Leave to soak 24 hours. (If in a rush, buy canned beans and use 2-3x quantity).
Add onions and garlic to a food blender and pulse until finely chopped. Add beans and pulse again for 10-20 seconds. Add other vegetables, nuts, etc and pulse until thoroughly mixed.
Add salt and chicken stock and stir thoroughly.
Fold in flour until mixture becomes a thick, sticky dough.
To cook, form into 12-15 patties, of heaped tablespoon size. Alternately, roll into 2 large loaves. For the smaller patties, fry or grill these in a griddle until golden brown and firm. For larger loaves, bake or roast until cooked through. For "sausages", roll into sausage shapes and shallow fry, turning regularly.
When using "meat" for food, the patties/loaves can be sliced into slivers for stir fries, chopped, sliced for sandwiches, thick-cut and fried as steaks, or slapped between buns to make "burgers".