Vegetarian Wild Rice Pilaf
diner524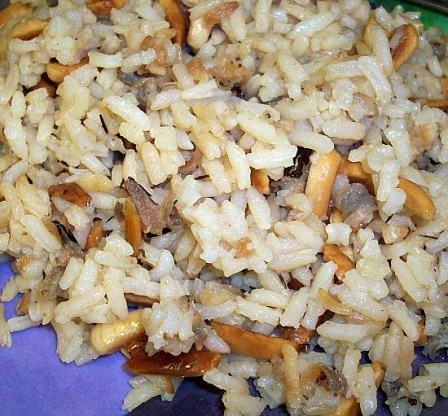 This dish has a wonderful nutty flavour and the combination of wild rice, long grain brown rice and dried fruit is a very nice companion to poultry dishes, including Thanksgiving turkey! This dish requires a couple extra pots for preparation, but it is well worth the effort. Like all rice dishes, this one must be made with well-flavored stock. If you don't have time to make your own, use a carton or can of good quality vegetable stock. If using dried parsley, I add it to the long grain rice as it cooks. If using fresh, I add it before serving. Recipe from "The Big Bean Book".
Just loved this rice, especially for the wonderful crunch and flavor the almonds add to the rice. I cheated and used a box of Uncle Ben's Wild Rice Chicken flavored but just threw away the seasoning packet. This was 1 cup of rice all together so I halved all the other ingredients. To make it easier and less pans to clean, I sauteed the almonds first and then removed to a plate and then added butter for the onion and rice. I then added the broth, salt and pepper and covered. After rice cooked I added the almonds back into the rice. I left out the raisins, personal taste. Thanks for a wonderful new rice recipe Florida Native!!! Made for PRMR Tag.
Bring a pan of water to boil, add enough water to cook wild rice as directed. Add salt to pan and lower heat, cover and simmer gently for 45-60 minutes, until the rice is tender.
If all liquid is not absorbed by the rice, drain well.
While wild rice is cooking, melt 1 tablespoon butter in another pan.
Add the onion and cook over medium heat for about 1 minute or until onion is softened and translucent.
Stir in the long grain rice and cook for 1 minute more.
Add the vegetable stock and bring to a boil. Add the parsley. Cover and simmer gently for 30-45 minutes, until the rice is tender and the liquid has been absorbed.
melt the remaining 2 tablespoons butter in a small frying pan. Add the almonds and cook until they are just golden brown. Set aside.
Add the wild rice mixture to the long grain rice mixture (I do this in the pan so everything stays warm). Add the almonds and raisins and stir to mix well.
Taste and adjust the seasoning if necessary.
Transfer to a warmed serving dish, sprinkle with fresh parsley and serve.