Vegetarian Taco Salad (For the Dieter)
Annacia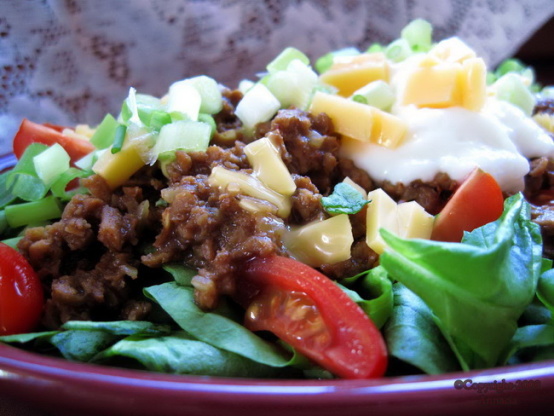 I originally made lettuce wraps with this, thinking of it as more of a taco, but I quickly found out that having the whole salad was much more filling.

Marvelous! To the basic recipe I added grape tomatoes, chopped green onion, a slice of fat free cheddar cheese and a big dollop of fat free sour cream. I placed it all on baby spinach instead of lettuce just because I like it better. Fast, healthy and yummy...whats not to love?
2⁄3 cup Morningstar Farms Meal Starters Grillers recipe crumbles

3

cups romaine lettuce

2 -3

teaspoons taco seasoning
taco sauce
Heat griller crumbles according to package, adding water according to your taste for consistency.
Add taco seasoning and let heat for 30 seconds longer so that the onion bits soften. I add extra cumin here for a smokier flavor, but you could also had a TINY bit of cayenne if you like the heat.
Top lettuce with "meat," then sprinkle on taco sauce.
Enjoy! :3 You could also top with shredded cheese, sour cream, or tomatoes, but I don't like any of those.