Vegetarian Swedish Meatballs
Mizzy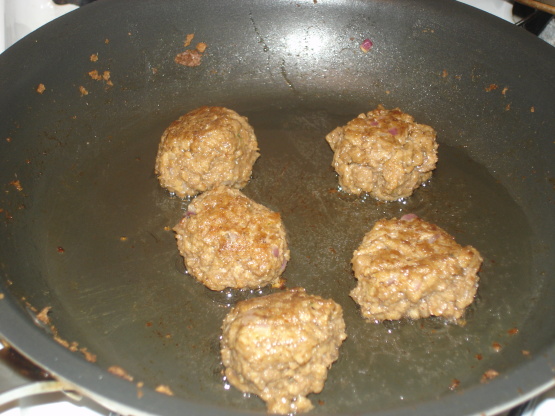 The 2005 World Tour is next headed to Scandinavia. Posting this for my vegetarian teammates. Don't want to see them go hungry this week. :-)

I love swedish meatballs but I am trying to stay away from eating meat so I decided to try these. It was my very first time ever using/trying the soy crumbles, but I just did not find these meatballs that good. I managed to eat three of them by mixing mashed potatoes and cranberry sauce up with the cut up meatball. Won't make them again though. Sorry, but I have to give my honest opinion about my experience with this recipe.
Preheat oven to 325 degrees F (165 degrees C).
In a large bowl combine bread crumbs, onion, pepper, nutmeg. and burger-style crumbles until well blended. Add all but 2 tablespoons of milk and test if your "meat" will form a ball. If needed, because the mixture is too dry, add the additional milk. Form into 1 1/2 inch balls.
In a large skillet over medium heat, brown the 'meat' balls in oil. Remove with a slotted spoon and place in a 2 quart casserole dish.
Whisk flour into drippings in skillet; cook until bubbly, stirring constantly. Stir in broth and half-and-half/soy milk/skim milk and continue cooking, stirring, until sauce thickens and boils, about 1 minute. Pour over 'meat' balls .
Bake in preheated oven for 30 minutes.