Vegetarian Split Pea Soup Recipe
Parsley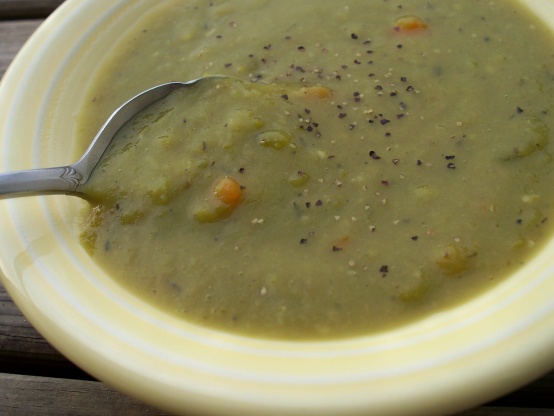 One of my all time favorite Split Pea Soups

Love veggie pea soup. Some variations in my kitchen:
Fresh thyme, shallots, garlic, dash of liquid smoke and a butter roux before blending with my immersion blender.
Sinfully good with a loaf of crusty bread.
Heat the oil in a saucepan over low heat. Add the carrot, celery, onion and thyme, season lightly with pepper and cook for 10 minutes.
Add the stock and split peas, and bring to a boil quickly over high heat.
Lower the heat and simmer until the peas are tender, about 1 hour.
Puree 2/3 of the soup in a blender and stir it into the remaining 1/3.
If the soup is too thick, thin it by adding a little more stock. Raise the heat and bring the soup to a boil for 15 seconds.
Add salt and additional pepper to taste.