Vegetarian Split Pea Soup
*Parsley*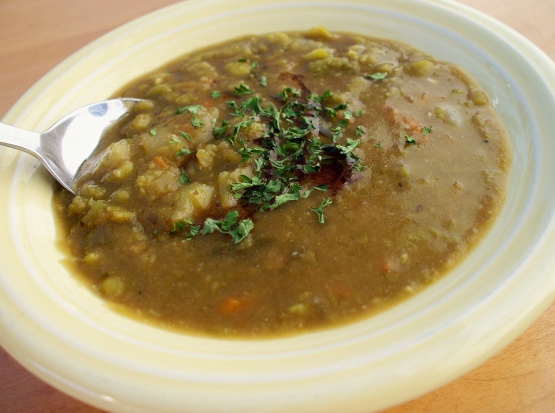 This recipe comes from the Moosewood Cookbook. It's my favourite vegetarian pea soup.
Anytime a vegetarian recipe requires a smoky flavor as from ham or bacon, I always add chipotle in adobo. Esta muy sabroso!
3

cups dried split peas

7

cups water (may need more) or 7 cups vegetable stock (may need more)

1

bay leaf

2

teaspoons salt

1

teaspoon dry mustard

2

cups onions, minced

4

medium garlic cloves, minced

3

stalks celery, minced

2

medium carrots, sliced

1

potato, diced

1 -4

tablespoon balsamic vinegar, to taste (or red wine vinegar)

Optional toppings

sesame oil (optional)
fresh ripe tomatoes, diced (optional)
fresh parsley, minced (optional)
Place first 5 ingredients in a large pot.
Bring to a boil, reduce heat to low, and simmer, partially covered for about 20 minutes, stirring occasionally to prevent split peas from sticking to bottom of pot.
Add onions, garlic, celery, carrots and potato. (You can saute these first or add them in directly if you want a fat free soup).
Partially cover and allow to simmer for about 40 minutes, stirring occasionally.(You may need to add extra water).
Season to taste with pepper and vinegar.
Serve with a drizzle of sesame oil, diced tomato and minced parsley.