jenne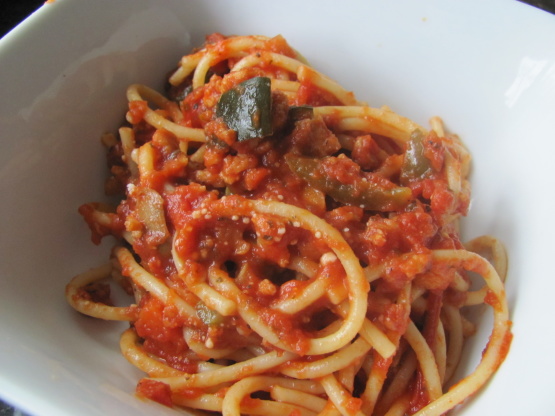 Adapted from a recipe in the newspaper which we enjoyed! This makes a lot of sauce -- first time ever making sauce in the microwave and it came out great and quick too! The pasta took longer to cook than the sauce! Note: the original recipe called for 2 tablespoons Italian seasoning which I didn't have so I subbed 1 T basil and 1 T oregano

DD and I loved this sauce. I used macaroni rather than spaghetti. Any pasta would be good. I loved the spiciness that the salsa added. I would never have thought to add salsa to a spaghetti sauce. The sauce is very thick and I would probably add some tomato sauce or water as a previous reviewer did next time I make this.
Prepare pasta according to package directions while preparing sauce.
In a large microwave-safe bowl combine first 12 ingredients (veggi crumbles - cayenne). Microwave on medium high for 5-10 minutes (I think I microed it for 8 minutes).
Stir in pasta sauce, salsa and Splenda into mixture. Microwave covered for 10 minutes, stirring once.
Spoon sauce over pasta and toss. Sprinkle with Parmesan if desired.