Vegetarian Shepherd's Pie
hlkljgk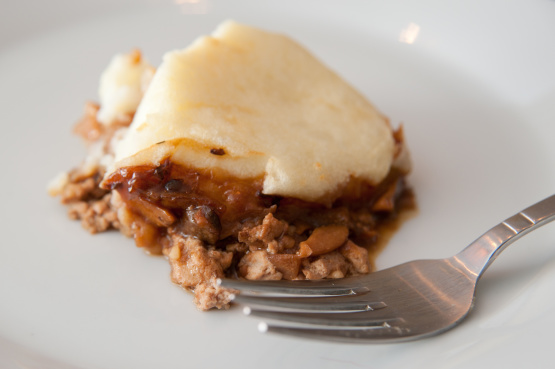 This tofu version of a shepherd's pie is certainly not very traditional, but this recipe still makes for a hearty meal. This Shepherd's Pie is a casserole combining a tofu saute, mashed potatoes, and mushroom gravy. If you perform the 3 steps concurrently, you will shorten the preparation time. You should start the freeze-thaw tofu procedure the day before you expect to make the casserole. Prep time does not include thawing time for tofu. I like it even better the second day.From the Moosewood Collective.

This is a great recipe! To make it even more authentic (according to my English husband), I added one diced carrot, and about 1/3 cup of frozen peas, and it really worked well. My husband is not a vegetarian, but he still loved it, and he thinks that this recipe tastes very comparable to those he has had in Great Britain. Well done!
Tofu Layer

1

cake tofu, frozen, thawed, and shredded

1

large onion, chopped

2

tablespoons vegetable oil
1⁄4 teaspoon thyme
1⁄2 teaspoon ground coriander

1

pinch fresh ground black pepper
1⁄2 cup walnuts, toasted and chopped
1⁄2 lemon, juice of (about 1 Tbsp)

1 -2

tablespoon tamari soy sauce, to taste

Potato Layer

4

large potatoes, peeled and cubed

3

tablespoons butter
1⁄2 cup milk

Mushroom Gravy

2

tablespoons vegetable oil
1⁄2 lb mushroom, sliced

3

tablespoons tamari soy sauce

1

pinch fresh ground black pepper
1 1⁄2 cups hot potato water

2

tablespoons cornstarch, disolved in 1/2 cup water
To freeze-thaw and shred tofu: Freezing tofu gives it a chewy texture which adds textural variety to casseroles. To perform this step, place the cake of tofu on a plate in the freezer, lightly covered with plastic wrap. In a couple hours, the tofu will be solidly frozen. Thaw the tofu for about 24 hours in the fridge. The thawed tofu block will resemble a sponge. Gently squeeze the water out. Then, grate the tofu by hand or in a food processor.
For the tofu layer, saute the chopped onions in the oil with the thyme, coriander, and black pepper until the onions are translucent.
Stir in the chopped walnuts and shredded tofu.
When heated through, stir in lemon juice and soy sauce. Remove from heat.
To make the mashed potatoes, place the cubed potatoes in a saucepan and cover with lightly salted water.
Bring to a boil, and then simmer the potatoes until soft.
Drain, saving the hot potato water to use in the gravy.
Mash the potatoes with the butter and milk. Salt to taste.
For the gravy, heat the oil in a skillet.
Stir in the mushrooms, soy sauce, and black pepper.
Saute, stirring occasionally, until the mushrooms are tender.
Add 1 1/2 cups of the potato water and bring to a boil.
Slowly stir in the cornstarch mixture and cook at a low boil, continuing to stir, until the gravy is clear and thick.
Oil a 9 inch square casserole dish or use a 10 inch round cast iron skillet.
Layer the tofu mixture, then the mushroom gravy, and then the mashed potatoes.
Dot the top with butter or margarine.
Bake at 400°F for 15-20 minutes until the top becomes golden.