Vegetarian Pumpkin Tortilla Soup
lnafie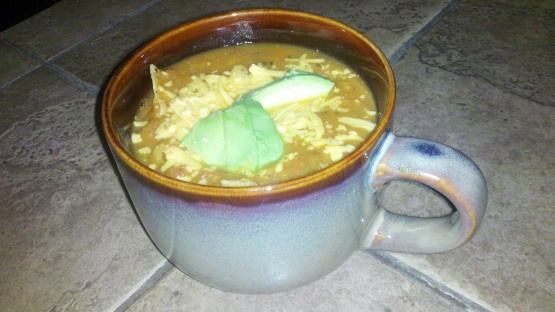 I don't remember where I got this recipe, but my mom makes it for the holidays, and it has become a staple among our family members - it's a great recipe to double for larger groups! We have done different versions, including one where we added pre-made polenta in lieu of the tortillas... it was delish. Also, don't feel like you have to fry your own tortilla strips... it's very messy and oily. Store-bought tortilla chips will do just fine. Enjoy!

A very, very tasty and easy to make soup! The pumpkin made it very filling, but yet the pumpkin was surprisingly a very subtle flavor. I don't think I would've guessed it was there if I hadn't known. I couldn't find fresh cilantro and also omitted the fried tortilla strips. We just put avocado on top. I'm a vegetarian, but could definitely see adding chicken or shredded cheese/sour cream for those that prefer it. We liked this so much that I will be making it again very soon.
Cut 6 of the tortillas into 1/2-inch squares.
Heat 4 tablespoons olive oil in a large saucepan over medium-low heat. Add onion, garlic, cilantro, and chopped tortillas and cook, stirring frequently, until onion is soft.
Add cumin and crushed peppers or cayenne and sauté for another minute.
Add pumpkin, tomatoes, vegetable stock, and salt and stir to combine. Bring to a boil. Cover, reduce heat, and simmer for one hour.
While the soup is simmering, cut the remaining 6 tortillas in half and then into 1/4-inch-wide strips. Heat 1/2 inch of vegetable oil in a medium skillet over medium-high heat until very hot but not smoking. Fry tortilla strips in two batches until crisp and light golden (about a minute). Using a slotted spoon, transfer tortilla strips to towels to drain.
To serve, ladle soup into bowls and garnish with tortilla strips, avocado, and cilantro.
*As a personal preference, I like to put the cilantro, tortilla strips, avocado, (ALONG WITH sour cream and shredded cheddar cheese - my own additions) into smaller serving bowls for people to add themselves. Yum.
*You can tailor the type and amount of hot pepper to your own tastes. We usually make this with a couple of crushed chile pequins but have also used cayenne pepper, which is more readily available. If you're not sure how much to use, start with 1/8 teaspoon of cayenne, taste the soup after it has simmered for awhile, and then add more if desired.