Nif_H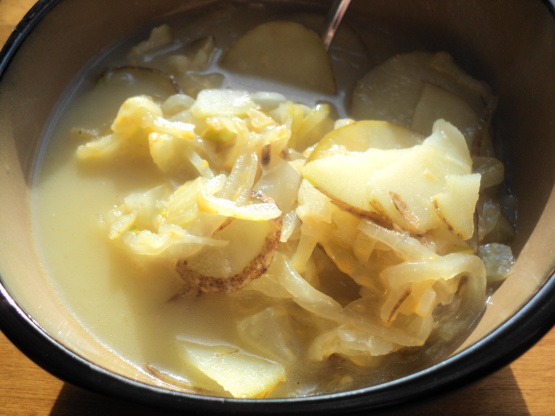 A deceptively rich-tasting, elegant soup, adapted from a recipe in the Moosewood Cookbook. Perfect for dinner party showing off, or as a simple rainy day meal paired with hot, crusty bread.

Oh so relish. I must admit that I was a little skeptical when I made the soup. How could something so easy be so good? I ate the recipe as is but I added a little turkey bacon for my husband. It was great both ways. Thanks for sharing
In a large dutch oven, melt the butter over medium-low heat.
Add the onions and 1 teaspoons salt. Cook about 15-20 minutes, stirring occasionally, until the onions are very soft and lightly browned.
Add the potatoes, fennel, caraway seeds, and another 1/2 teaspoons salt. Saute over medium heat about five minutes.
Add water and bring to a boil. Reduce heat and simmer about 10 to 15 minutes, until the potatoes are tender.
Remove from heat and stir in cheddar cheese until melted. Taste and adjust salt if needed. Serve topped with minced fennel fronds.