Vegetarian Peanut Curry (African Inspired)

Created for the Dining on a Dollar contest. At first this was inspired by Senegalese peanut soup which has Asian influences but it evolved more into a South African curry with the addition of dried fruit which is optional if you don't like fruit in your curry. This turned out very flavorful and filling. The peanut butter is an undertone and not overpowering. It's packed full of good fats, fiber and protein. I made this Vegetarian but you could easily add chicken broth and chicken. I made this mild but you could increase the chilies to spice it up. Next time I may try chopped fresh tomatoes and green onions on top. Enjoy!
2 tablespoons olive oil or 2 tablespoons peanut oil
1 large white onion, chopped
2 carrots, peeled and grated
1 -2 jalapeno, minced
3 garlic cloves, minced
1 tablespoon ginger, fresh grated or 1 tablespoon ginger paste
1 lime, zest of
3 tablespoons curry powder (I think this would work with almost any type but I used Madras)
1 tablespoon ground coriander
1⁄2 teaspoon crushed red pepper flakes
2 (14 ounce) cans vegetable broth
1 (8 ounce) can tomato sauce
1 (14 1/2 ounce) can diced tomatoes, with juice
2⁄3 cup creamy peanut butter
1 (13 1/2 ounce) can coconut milk
2 (15 ounce) cans garbanzo beans, drained and rinsed (chickpeas)
1⁄2 cup dried apricot, chopped (optional)
1⁄2 cup golden raisin (optional)
sea salt, to taste (I used 2 tsp)
cooked brown rice, to serve
nonfat yogurt, to serve
cilantro, chopped, to serve
Directions
Heat oil in a large pot over medium heat.
Add onion, carrots and jalapeno and sauté until almost soft about 8 minutes.
Add garlic, ginger and lime zest and sauté another 3 minutes.
Add spices and sauté until fragrant.
Stir in broth, tomato sauce and diced tomatoes and bring to a boil.
Stir in peanut butter, reduce heat and simmer until it melts.
Stir in coconut milk, garbanzo beans and dried fruit and simmer for another 10 minutes.
Salt to taste.
Put cooked brown rice in bowls and ladle curry over rice. Top with a dollop of yogurt and cilantro.
Most Helpful
WOW! This is the best I have ever cooked. Added fresh corn, pureed the garbanzo beans, hot Thai chili, zuchinni . Creamy, a little heat, pure delight, zest of lime was sublime! No yogurt or fruit this will be my prize soup!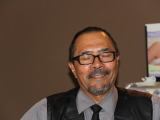 My only regret was not having tried this recipe sooner. I LOVED it and DH really liked it. We will definitely make this again. We concurred with other reviewers that there was a little too much veggie broth for the perfect consistency, but this really was not a problem. We used Madras curry as was suggested. DH accidentally threw in the cilantro I chopped for garnish in with the carrots, onions and jalapenos, so I did not have any left for garnish, but it was fine. We omitted the dollop of yogurt. I used the apricots, but not raisins (personal preference) and this worked for us. Also, we served over basmati versus brown rice and this was great as well. So impressed this was a recipe you created. Well done. Thanks so much for sharing.

Delicious! I think next time I'll leave out the raisins cuz I didn't really care for them, but the apricots were great in it. I added fresh lime juice when serving. Might add it to the whole pot next time.