Rita1652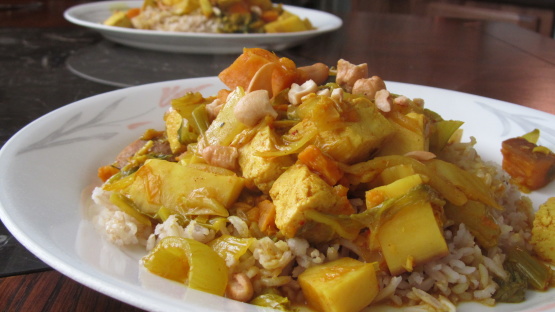 I got this recipe in an exchange. Originally from Chef Chloe.

This is awesome. The peanut butter is very subtle and the lime sticks out, which I love. I've made versions of this for years but I think this is my favorite! I ended up using carrot, celery, and cabbage for the vegetable but kept everything else the same. Flavorful and healthy, I'll be using this as my go-to coconut curry recipe from now on!
Heat oil in large pot over medium-high heat. Add shallots, ginger, and garlic and let cook until soft, about 5 minutes. Stir in peanut butter, turmeric, cumin, and curry paste and let cook until fragrant, about 2 minutes. Whisk in water, coconut milk, lime zest, brown sugar, and salt until combined.
Add tofu, sweet potato, and kale, and bring to a boil. Let simmer, covered, for 30 minutes, or until sweet potatoes are fork tender. Stir in lime juice and adjust seasoning to taste.
Garnish with cashews and serve over rice or quinoa.