Vegetarian Nasi Goreng (Fried Rice)
Noo8820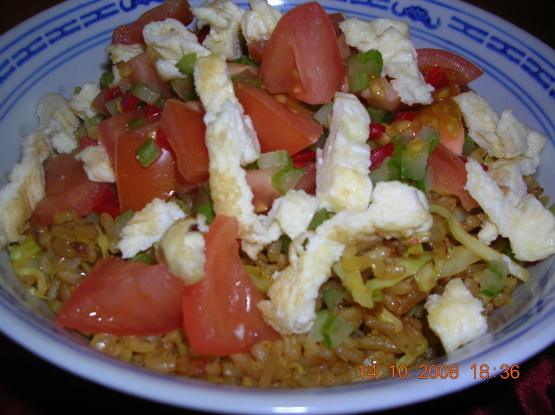 This is one of the best-known Indonesian dishes and one of the easiest to make. The garnishes give contrasting flavors and textures to the dish. Try it!

Top Review by Bergy
If you want a great rice dish (a meal in itself) this is it. Wonderful for a lucheon or for dinner. I have had Nasi Goreng many times, usually with ham etc but with this recipe you do not even miss it. The garnish is beautiful and like Sharon said it adds to the variety of flavors. Don't change a thing. This recipe is great just the way it is Thanks Sharon for a dish that will grace my table many times
2

cups long-grain rice

2

tablespoons tamarind paste

2

tablespoons vegetable oil

8

shallots, chopped

3

cloves garlic, crushed
1⁄2 inch fresh ginger, grated

2

teaspoons curry powder
1⁄4 teaspoon hot red pepper flakes
1⁄4 teaspoon turmeric
1⁄2 small cabbage, thinly sliced

2

medium tomatoes, peeled,seeded,and diced

3

tablespoons soy sauce

1

tablespoon packed dark brown sugar

To Garnish

3

tomatoes, coarsely chopped
1 1⁄4 red peppers, cored,seeded,and diced
1⁄2 cucumber, diced

1

stalk celery, diced

Omelette strips

2

eggs
salt and pepper

2

tablespoons butter
Cook the rice in boiling salted water for 12-15 minutes, until tender.
Drain, rinse, and drain again.
Stir in the tamarind paste and set aside.
Heat 1 tbls.
of the oil in a large skillet or wok, add the shallots, and cook for 3-5 minutes, until softened.
Add the garlic, ginger, curry powder, pepper flakes, and turmeric and cook gently, stirring, for 1 minute.
Add the cabbage and cook for 3-5 minutes.
Add the tomatoes and cook for 2-3 minutes.
Remove from pan.
Heat the remaining oil in the pan, add the rice, and cook gently until lightly browned.
Return the vegetables to the pan.
Add the soy sauce and sugar and heat gently to warm through.
Serve hot, garnished with tomatoes, red pepper, cucumber, celery, and omelet strips.
Note: To make omelet strips: Whisk 2 eggs with plenty of salt and pepper.
Melt 2 tbls butter in an omelet pan or small skillet.
Add the eggs to the pan and cook until set.
Leave to cool.
Roll up the omelet and slice across into fine strips.