loof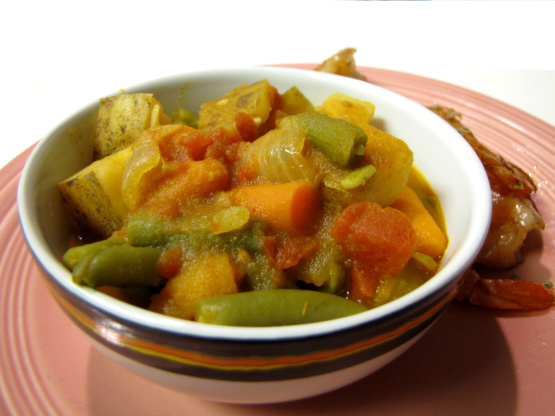 An easy, tasty vegetarian dish. Serve with pita bread.

Gotta love this! It's delicious, heathy and really easy. I did add a celery stalk because I have some that is needing to be used up and it went very well here. The spiceing is indeed very mild and toward the end of cooking I added a Tbsp of Ras el Hanout which really brought out it's best. :D
In a soup kettle, simmer onions and garlic in oil and water until transparent.
Add potatoes and carrots and simmer 15 minutes, stirring occasionally.
Add tomatoes and cumin. Cover and simmer 1 hour. Check occasionally to see if more liquid is needed. If so, add tomato juice as needed.
Add green beans and cook 15 minutes more.
Check seasoning and add pepper and more cumin to taste.