Vegetarian Meatless Pepper & Mushroom Casserole
Bergy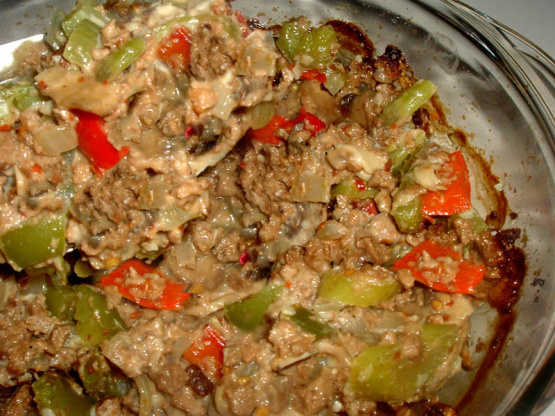 The vegetarian meatless ground beef is so easy to use to make into a tasty casserole that even a meat lover like myself will enjoy. I am just beginning to use these meatless products. This is the third casserole that I have put together. Make it more or less spicy - it's up to you. The soup does have cream in the ingredients. Nice to serve with dry fried onions on top. I served this casserole with mashed Turnip & carrots, boiled new potatoes. It would also be nice served with noodles or rice. If you wish you could add cooked rice or cooked noodles right into the casserole before baking.

Top Review by Helen1
This was surprisingly good! I too have just thought about eating some "meatless" dishes and wasn't quite sure what to do with the vegetarian style ground round. This was my first attempt, and it was better than I had expected. I added 1/2 tsp of chili flakes and 2 large cloves of Russian garlic. Next time I might soften up the veggies first (ie saute). I seved it with your suggestion of mashed turnip & carrots, roasted baby potatoes & sweet potatoes. Now...what to do with the other 1/2 can of mushroom soup??? Thanks Bergy.
Mix everything together in a large mixing bow.
Transfer into a lightly greased casserole dish with a lid or cover with foil.
Bake in 375°F oven for 35 minutes covered.
Serve & enjoy.