Vegetarian Fiesta Con Queso Soup
Bayhill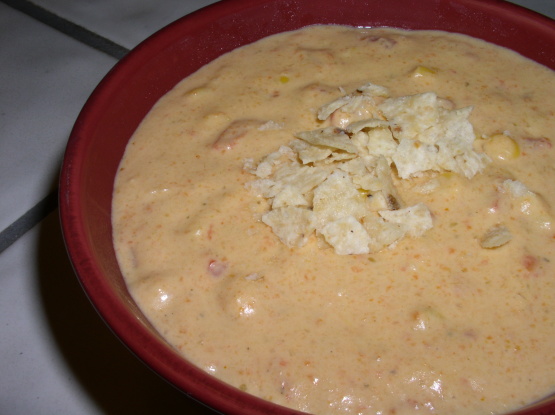 My hubby is a HUGE fan of this soup--originally served to him at a Panera Bread shop. After trying a bowl myself we got on the Panera Bread site to see what was in it and then spent several days in the kitchen trying to recreate this hearty flavorful soup. After lots of note taking, and a small blender mishap, I think we unlocked the secret of the "soup". Note: this is not Low Fat by any stretch of the imagination. Hope you enjoy as much as we do! If you have leftovers it freezes very well and tastes even better once its reheated.

Top Review by 849799
i became very addicted to this soup at Panera and this recipe is pretty close. i made a few changes though: -fat free cream cheese -1 lb of 2% milk velveeta (unlike others, i felt it wasnt cheesy enough as written) -i omitted the part with the boiling water and the flour...i feel like the soup is thick enough without it -i used an immersion blender in the pot instead of a regular blender -i didnt use the hot sauce or the anaheim chile and it was plenty spicy. also, if i'm in a hurry, i'll microwave the corn before i put it in, to save time. lol i make this a lot. :)
Over medium heat melt butter or margarine in a 6 quart stock pot, add onions carrot and celery and sauté until onions are transparent and carrots have softened, add garlic toward the end and allow to soften (about 2 minutes), remove from heat.
In a blender combine sautéed onions, carrots, celery and garlic with roasted Anaheim chili, 4 cubes of bouillon and 4 cups of hot water-- puree.
Return vegetable puree to stock pot and place over medium heat, add both packages of cream cheese stirring until completely blended with vegetable puree.
In separate bowl blend 4 tablespoons of flour with 1/2 cup of the warm cream cheese and vegetable puree mixture to get out lumps then stir in 1/2 cup boiling water, combine with contents of stock pot.
While stirring the pot bring contents to a boil.
Allow contents to boil while stirring for about 2 minutes then simmer.
Add the 1/2 lb of American cheese a couple of slices at a time until melted.
Once cheese is melted incorporate the can of tomatoes (with juice), roasted red pepper, corn, hot sauce, cayenne pepper and cumin.
Allow to simmer for at least 1 hour stirring occasionally to prevent burning.
Serve and enjoy!