Vegetarian Croissant Sandwich
Debbwl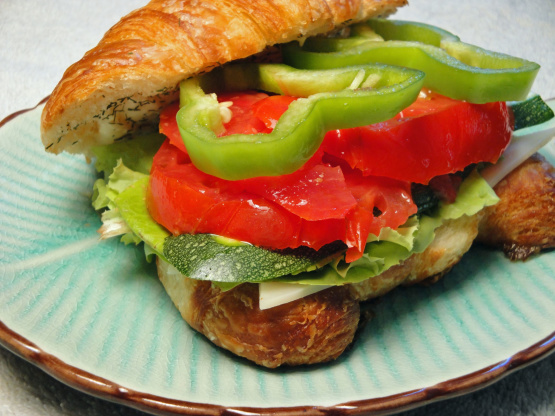 This came from the Better Homes and Gardens website. Lovely sandwich and good looking too!

Top Review by Debbwl
Yum!! This made the absolute best lunch! Used all lettuce, zucchini, heirloom tomato, and bell pepper all picked this morning for a friends yard, along with a croissant I picked up from the local croissant shop. Was wishing I had some avocado till I bit into this tasty sandwich and found that the Swiss cheese, hoseradish Dijon mustard and very generous sprinkling of Dill were such excellent accents that nothing else was needed, believe me I will make this just the same way again. Thanks for the post.
If desired, wrap croissant in foil and heat in a 350°F oven about 4 minutes or just until warm.
Split croissant, then spread lightly with mustard.
Arrange lettuce leaf, Swiss cheese, tomato slices, avocado, zucchini or cucumber, and mushroom slices on bottom half of croissant.
Combine mayonnaise, milk, and dill weed or basil.
Add sprouts if desired.
Spoon over filling.
Add top half of croissant.
Makes 1 serving.
Tip: You may substitute any of your favorite fresh vegetables for the tomato, zucchini, cucumber, or mushroom.
Some vegetables, such as green beans, thinly sliced carrots, or asparagus, are especially good when steamed for a few minutes and then marinated for several hours in a vinaigrette dressing.
Enjoy!